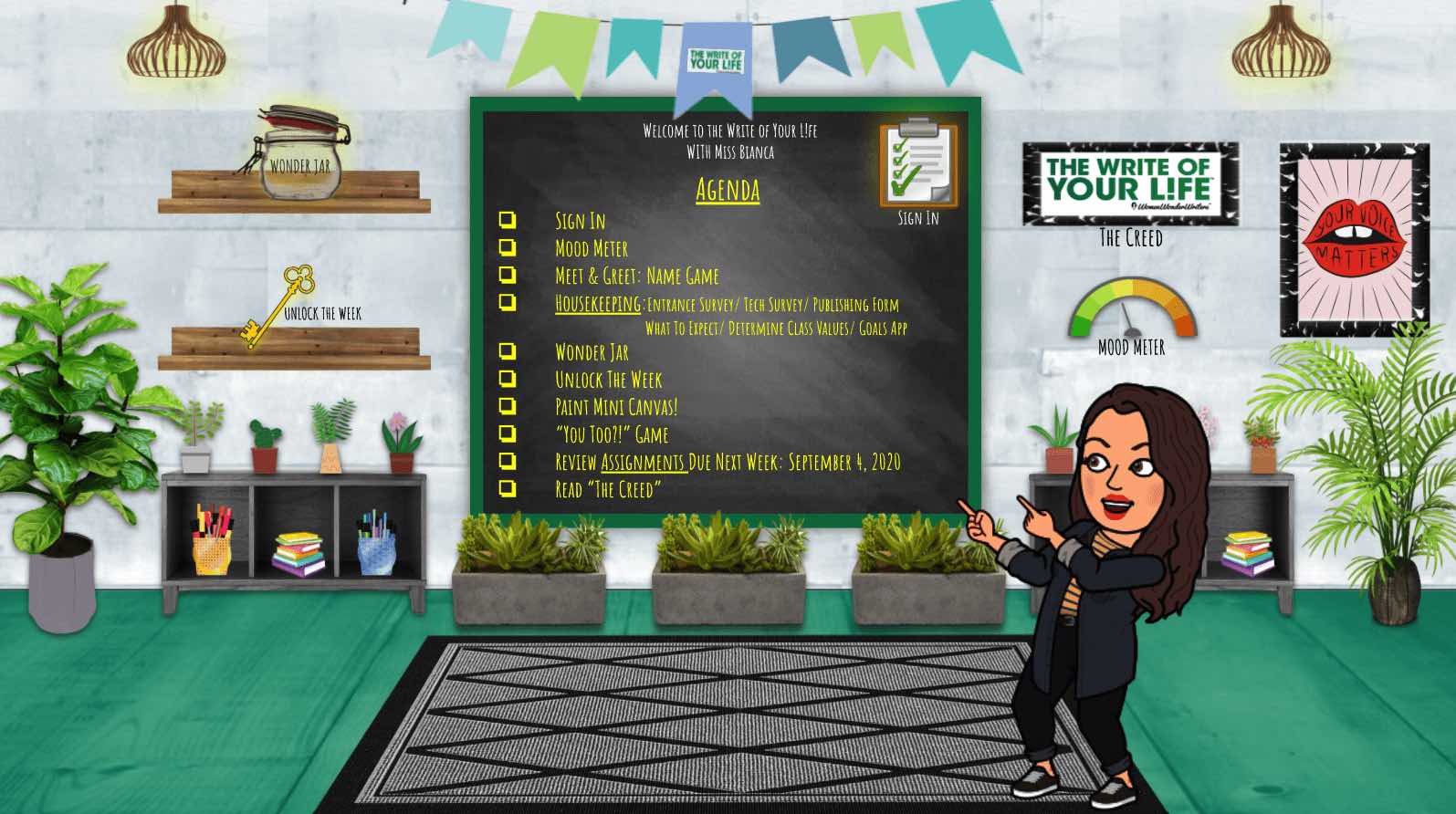 09 Sep

Welcome Back! Back to School Activities & Resources from Our Virtual Classroom to Yours

Just last week, Women Wonder Writers launched The Write of Your L!fe Online. We're grateful to be able to serve our students but know transitioning to the virtual classroom isn't always easy. So we put together a few tips for welcoming students back to such a novel environment. These back to school activities are great for your first few weeks. We like them because they incorporate new educational technology with our long-term dedication to trauma-informed learning.
Welcome Back Students in New Ways
1. Try a bitmoji classroom
Okay, hear me out! Bitmoji classrooms do not have to be overly cutesy or run the show. But welcoming back students virtually isn't the easiest thing in the world, and it's certainly not second nature. 
We know some students might feel anxiety or feel discouraged by the new medium of online learning, while others might feel excitement.  Managing this throughout the year will likely be your biggest challenge, so why not start with strategies that bring your classroom to life from the gate. The visuals and vibrancy of this new aesthetic helps to create an engaging environment beyond powerpoints and standard Google Classroom setups. 
Women Wonder Writers just launched our online The Write of Your L!fe program for our Ivy High School students from San Diego County.
Miss Bianca, one of our head instructors, decided to switch gears this year and implement this style.
"This is our first time using a Bitmoji classroom! It provides a really great visual in place of those boring powerpoints to welcome them back to this interesting school year! It also houses all of the links we need for class so transitioning to a video or Google Jamboard is much smoother."
This is the Main Classroom and it has everything needed for that particular class period.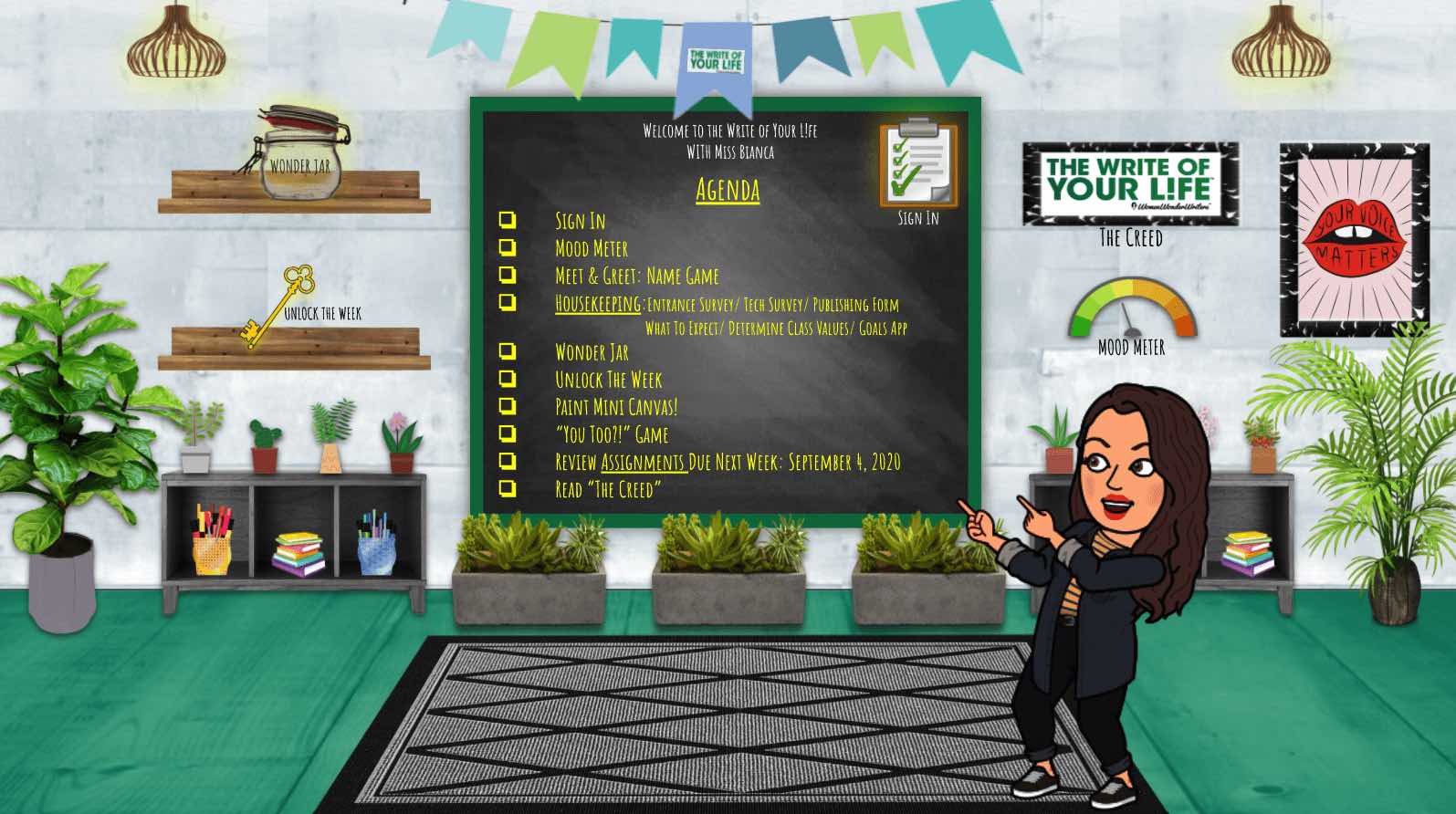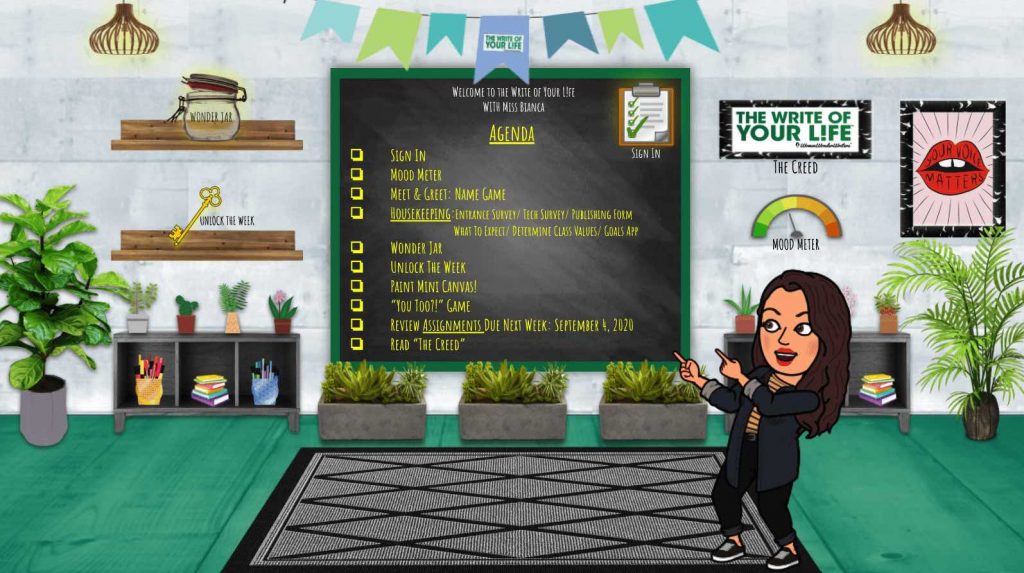 Miss Bianca's Bitmoji Classroom – The Write of Your L!fe
Bitmoji classrooms are not meant to be distracting, so if they are, always recalibrate to keep your students engaged, but as Miss Bianca mentioned, the Bitmoji classroom plays nice with a lot of other unique technology you can also use in your virtual classroom, but we'll get to that in a minute.
Back to School Activities
Now that we're in the classroom, it's time for those initial back to school activities. 
The first day of school always comes with a plethora of icebreakers. And whether online or in-person, the best icebreakers do more than introduce everyone. 
In Miss Bianca's classroom, she started day one with the "Name Game." 
At The Write of Your L!fe, this game serves several purposes beyond remembering everyone's name. 
The students, including Miss Bianca, take turns saying their name, doing a fun gesture, and then saying their dream career. The goal is for each person to repeat everyone else's name, gesture, and career before saying their own information. This can, of course, end up being hilarious when the 15th person is trying to remember all of the names, gestures and dreams before theirs. 
The mood is instantly lightened, the students learn more about each other and their minds are now warmed up for class. And after discussing everyone's dreams and future goals—they start the class with a sense of optimism, wonder, and endless possibility.
First Day of School Check-ins
3. Administer digital surveys
Welcoming your kids back to school means welcoming their feelings, fears, and apprehension. Conducting emotional student check-ins is a great navigational tool for you as the teacher to better steer each student to the individual support they need. Social and emotional strategies like these lay a more trusting foundation at the start of the school year. 
At The Write of Your L!fe, we're rolling out a new "Mood Meter" survey. Students complete this at the start of class to gauge how they're feeling. This is done digitally and privately where the instructor is the only one who can see each response. These kinds of back to school resources for teachers make the first week back at school just a little bit easier.
Take Advantage of Google Ed Tech
4. Try Google Drawings & Jamboards
The Write of Your L!fe is a cultural arts and restorative justice workshop. Trauma-trained teachers educate and mentor those affected by trauma, crime, and other hardships. The class encourages healthy self-expression, and promotes resilience, accountability, and empathy. 
There is often a focus on poetry as well as visual arts. In this class, poetry activities will be ongoing as well as various art projects. Some projects will require art kits delivered to each home, so every student will get the opportunity to paint and draw. 
But that being said, this class will take advantage of the technology now available. 
Encourage Expressive Art Projects with this technology!
Take advantage of the ed tech in Google to create unique online lesson plans with Google Drawings or Google Jamboard. 
Google Drawings are a very useful digital tool for creative expression. It's a great visual art tool to collaborate with your students. 
This past week, Miss Bianca led a lesson to create a digital vision board in Google Drawings.  Below is a tutorial on how to get started.
This upcoming week, her class will be participating in a new activity called "American Like Me." 
This will consist of a poem and around the poem, together, the class will create a digital border within Google Drawings that has images representing the America each student lives in, and how they view it. 
They can not only collaborate with each other here but then have some incredible discussion surrounding their feelings and perspectives. Understanding each other and having empathy for others' views is a strong component of The Write of Your L!fe, and Google Drawings complements that mission well. 
The Google Jamboard is an interactive whiteboard tool where students can view, collaborate, or even work independently on a jam just like any other file. To get a better visualization of the Jamboard, see below.
To ease classwide anxiety, it's often good practice to show students a visual of the agenda—you can add that to a Jamboard and they can breathe easy knowing what to expect in this unfamiliar new space. This and other trauma-informed strategies are highly effective for the first week back at school during these strange times. 
Here Bianca uses another slide in her Bitmoji classroom as "The Housekeeping" room. It houses check-ins, surveys, the syllabus, and more.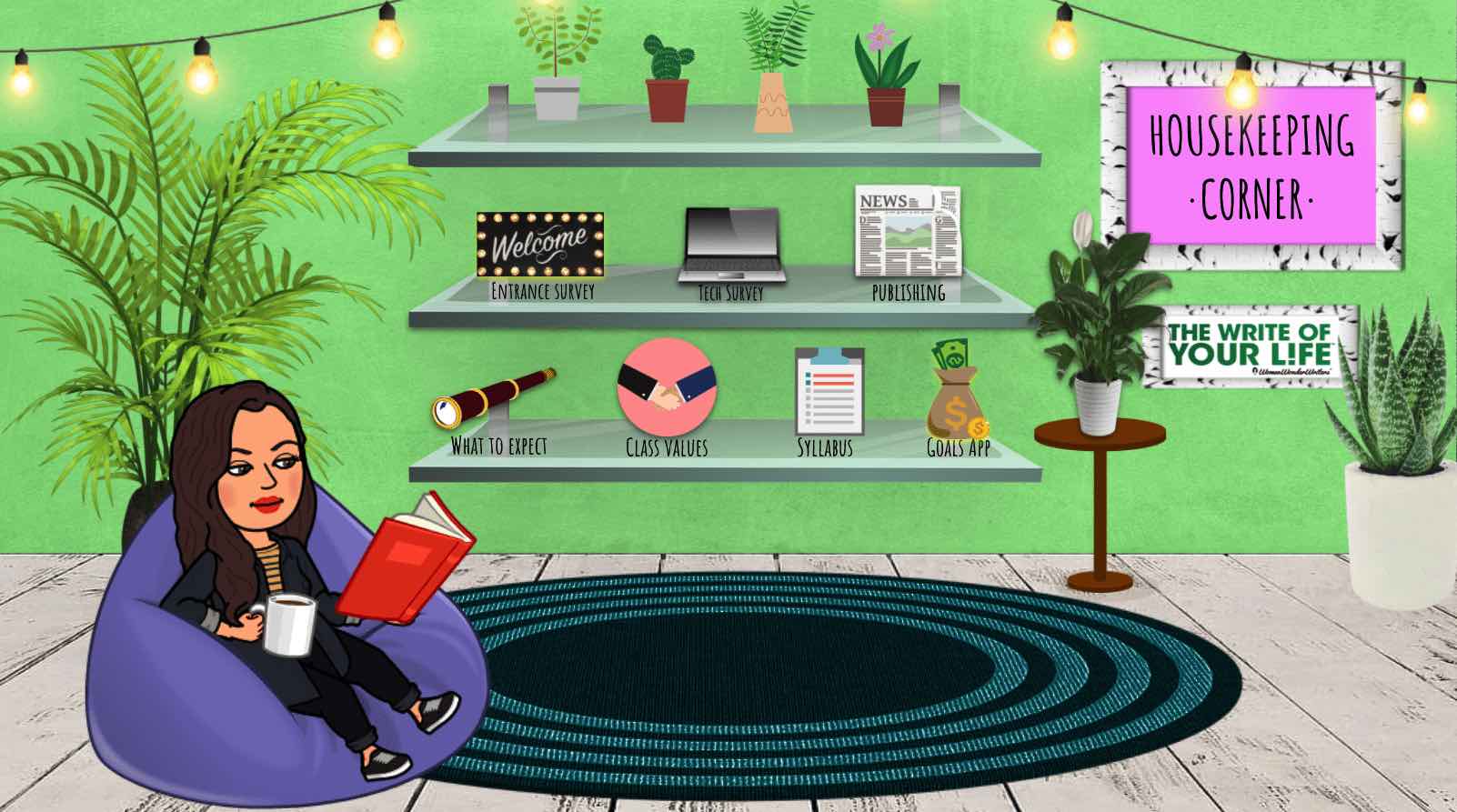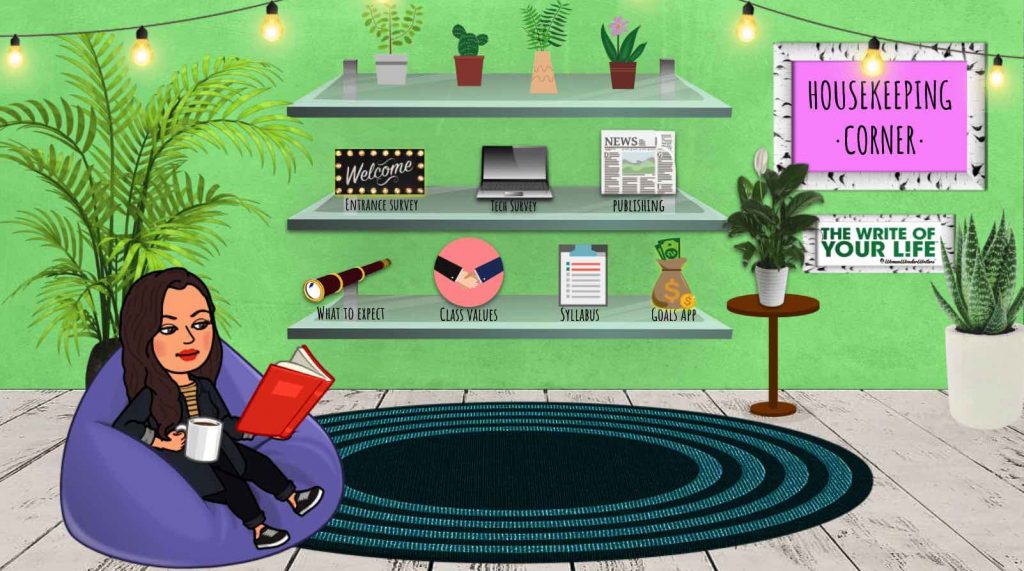 Expecting the Unexpected
Unfortunately, we don't have a rulebook for this. When using new online tools, issues may present themselves, students may feel overwhelmed, and we even may struggle. Ultimately though, as educators and students, we're given a unique opportunity to mess up together, and to learn and grow together. Keep going, we got this!
6 SEL Strategies for Your Virtual Classroom
After the first week of school, there's obviously much more to be done. Maintaining and sustaining the engaging virtual classroom you built, is everything. We've laid out a few tips to equip you and your online teaching experience.