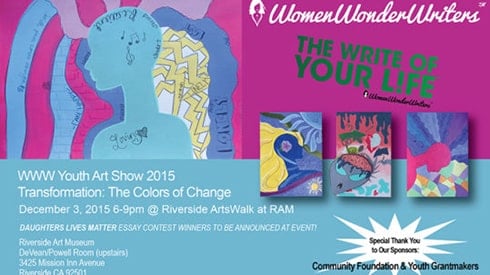 24 Nov

Youth Art Show Set for December Riverside ArtsWalk
News Release
YOUTH ART SHOW SPONSORED BY THE YOUTH GRANTMAKERS COMMITTEE FUND AT THE COMMUNITY FOUNDATION SET FOR RIVERSIDE ARTSWALK
RIVERSIDE – Women Wonder Writers (WWW) will exhibit Transformation: The Color of Changes created by local youth at the Riverside Art Museum on December 3rd in the upstairs DeVean/Powell room during ArtsWalk. The art work is the mixed media work created by local youth in collaboration with WWW, Riverside artist Judi Randolph and life coach Joan McCullough. WWW serves students ages 12 to 17 through its signature program The Write of Your L!fe at juvenile halls, group homes, probation sites, community centers, and schools serving students at-risk for dropping out.  The art show will be funded in part by the Youth Grantmakers Committee Fund at the The Community Foundation, whose grant selection committee is made up entirely of youth.
The art show will feature student work including Your Authentic Self, acrylics on canvass, designed to help youth discover who they are at their core; Perspectives, weaved and painted canvass, designed to teach youth how negatives can be used as motivators for positive change; and Inside/Out, a three dimensional work designed to help youth become aware of the way they present themselves to the world. "We believe that similar to writing, artistic expression helps our students in their journey of resilience and we were honored to be recipients of the Community Foundation Youth Grantmakers Fund Award, which helped support our youth art programs and art show this year," stated Debra Postil, WWW Executive Director and Co-Founder.
Also on December 3rd, the winner of the Daughters Lives Matter essay contest will be announced. In collaboration with Street Positive, WWW launched the 500 word essay contest for girls ages 14-22 and their fathers who live in the Inland Empire. Fathers were asked to answer questions such as 'What have you taught your daughter'? And daughters were asked to write about the greatest lesson they had learned from their fathers. The winner in each category will receive $200, second place winner will receive $100 and third place winner will receive $75.
Transformation: The Color of Changes Youth Art Show will be exhibited on Thursday, December 3rd from 6 – 9 p.m. in the DeVean/Powell room upstairs at the Riverside Art Museum located at 3425 Mission Inn Avenue in Riverside, California. The Riverside Artswalk is a monthly community event that celebrates the diversity of arts and culture in Riverside and the Inland Empire. The event is free and open to the media and public. VisitWomenWonderWriters.com or contact Kathy Ediss at (951) 532-3280 for more information, to donate, or learn about upcoming events.