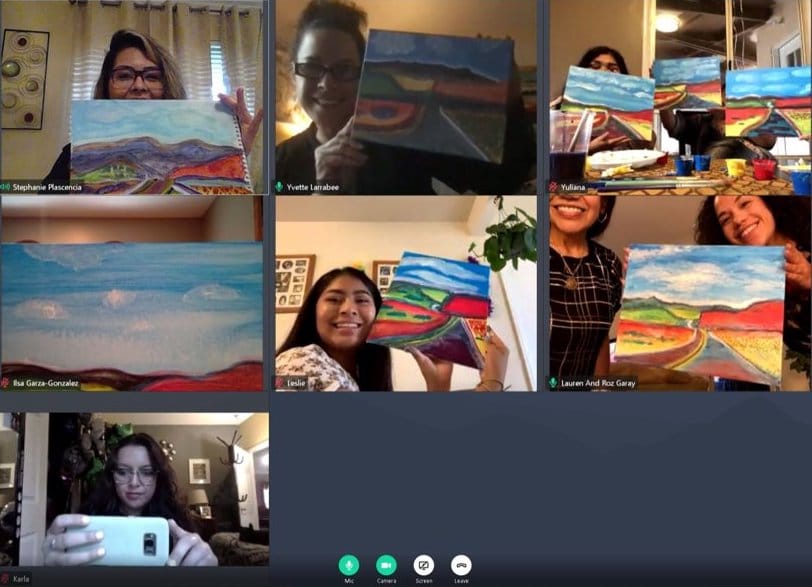 10 Jun

News Release: Women Wonder Writers Brings Virtual Paint Date to Engage Families During COVID

RIVERSIDE, CA – Last Friday night, Women Wonder Writers (WWW) held a virtual mother/daughter paint party, celebrating the graduation of their The Write of Your L!fe students from Ivy High School. Each girl and their moms were sent supply kits, while take-out food was delivered to each home right before the event, so they could enjoy dinner together before they set up their computers and canvases. 

 

Mother/daughter painters, Lauren and Rosalind Garay, led them in a guided painting project. Lauren and Rosalind have been doing these paint nights around the community for several years, raising funds for Puerto Rico, COVID-19, and many other causes.

 

For the last several years, Women Wonder Writers has hosted similar paint dates on a larger community and parental engagement offering to support healthy caregiver-child relationships and strengthen families in the community. They exist now during the culmination ceremonies for students and their families graduating from The Write of Your L!fe program. Students and their families sit side-by-side painting their masterpieces from their homes while connecting on GoToMeeting or Google Hangout online platforms. 

 

The purpose is to create a bonding experience and to educate caregivers and children on the importance of cultivating this relationship. The class at Ivy High School started out with 22 girls in attendance beginning earlier in the year, receiving face-to-face instruction from WWW instructors, but due to COVID-19, the remaining workshops and graduation took place virtually. Fortunately, the pandemic did not stop WWW.

Over the last several months, WWW and Fallbrook Union High School District strived to keep their commitment to ensure all lesson plans, activities, and assignments were accessible to every single student. "Having access to the arts regardless of resources has been a priority of Women Wonder Writers for years, along with cultivating a safe place for self expression," stated Debra Mares, WWW's Founder Executive Director. 

 

Their cultural arts mentoring program, The Write of Your L!fe is designed to promote healthy self-expression and build self-esteem through writing and art. WWW's program coordinator, Stephanie Plascencia stated, "Families painting together with their students was extra special. While being able to celebrate their graduating students and hearing about their accomplishment, families were also able to experience the healing power of art." 

 

The organization received a thank you note from a student, which read: "I'd like to thank you all and anyone else who is a part of the program! It was a life changing experience and it certainly helped me battle through these hard times. Just knowing I had all you to talk to. I'm gonna miss class and all of you very much! Thank you for everything!!" One of The Write of Your L!fe instructors, Karla, assisted this student in getting signed up for the Puente Program, encouraging her college enrollment for the fall. Another student reportedly faced many challenges during this pandemic and many of the times had to babysit her triplet nieces and nephews during class time.  Ms. Plascenia explained the paint night was a great way to highlight all of her achievements with her family.

 

WWW is in the early planning stages of its annual, although first time online, virtual paint date in the Fall, during October's Domestic Violence Awareness month.  "Our P'Art in Parenthood" is expected to serve approximately 50 child-caregiver pairs with a similar virtual paint date online. The offering also highlights community members who present unique, nontraditional career opportunities for the teenage population present, providing resources for personal and professional achievement. 

 

Women Wonder Writers is a 510(c)(3) nonprofit organization with a mission to break the cycle of victimization and abuse through education, empathy and expression.  It implements cultural arts and restorative justice programs to youth faced with trauma in academic, community and correctional sites.  To learn more about this engagement, contact Alyssa@womenwonderwriters.com.