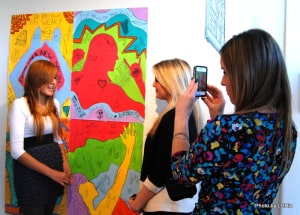 23 Mar

Traveling Youth Art Show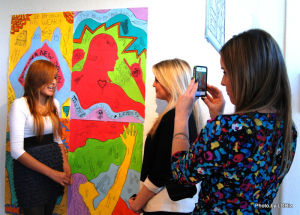 by Kathy Ediss
RIVERSIDE –After Women Wonder Writers (WWW) co-hosted a successful art show on the first Thursday of March in collaboration with Riverside Community Art Association, WWW hit the road today traveling with its youth art show, The Authentic Self.
On March 7, over 200 guests toured the art show to view local artists work and the art of the young women from WWW.  Live music was provided by Kim and Linda Medina and refreshments were provided by WWW.
Your Authentic Self is art work from students from Women Wonder Writers, a mentorship and life skills organization reaching "at-risk" youth in Riverside County affected by violence, abuse, addiction, broken homes or underachieving academically. Ten week writing and mentorship workshops meet around Riverside County once per week for two hours.  The art show also featured The Making of The Girl, collage story-boards from Women Wonder Writers, telling the tales of young women affected by sex-trafficking, bullying and abuse.
Providing guided tours were students from WWW to discuss their art and their personal success stories. Lisa, a graduate from the program and now an assistant instructor said, "This program has changed my life. I never knew something like this could happen to me." Lisa now produces her own art and has sold several pieces at RCAA.
Also in attendance was Kristi Elias, a well-known artist and photographer from Long Beach. "The art work is very emotional and captivating," commented Kristi.
"The community support for Women Wonder Writers program is overwhelming," Debra Postil and Nikki Randolph, WWW co-founders said. They were thrilled with the turn out for this first time event and the support shown from the Riverside District Attorney's Office, Family Justice Center, California Baptist University, Operation SafeHouse, Riverside County Probation, Jurupa Unified School District, and Educators from the Inland Empire and Los Angeles.
"Seeing our vision coming to fruition is amazing.  It shows just how important these issues are in the community. Women Wonder Writers will continue to work hard and further address these issues by traveling with its art show at three separate events," says WWW co-founder Debra Postil.  Today, WWW erected a ten-by-ten foot panel showcasing The Authentic Self & The Making of the Girl at the Empowering Young Women Conference on March 23rd at Riverside Community College.  On March 30th, the youth art will be displayed at Celebrate Community at Community Park in Moreno Valley. On April 20th, WWW will create an "Expression Room" at Stop the Pain, a Teen Summit WWW is co-hosting at California Baptist University.  On April 28th, WWW will feature its art again at Girls World Expo at the Riverside Auditorium.  "All these conferences will in-part address sex-trafficking prevention, which shows how dedicated our community is to working together to tackle this issue in the Inland Empire," says Postil.
The Empowering Young Women Conference is a collaborative effort by Riverside Black History Month Committee, Riverside Community College District, Riverside Police Department, Blumenthal Law Offices, A Foundation for Kids and former Riverside County Supervisor Bob Buster.  Stop the Pain is a collaborative effort by Women Wonder Writers, The Positive Results Corporation, Street Positive, and the School of Behavioral Sciences at California Baptist University with support in-part by The Riverside Deputy District Attorney's Association, Riverside County Board of Supervisors and Riverside County Mental Health Department.  Girls World Expo is hosted by Girls World Expo, Inc.
You can get more information and dates for the traveling art exhibit and upcoming events and classes on WomenWonderWriters.com