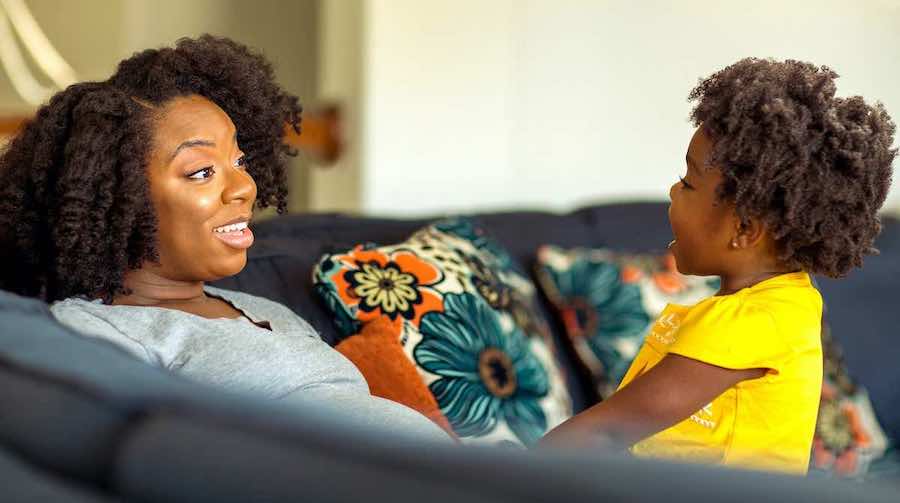 10 Jun

Talking with Children About Coronavirus (COVID-19): Tips for Parents and Teachers

The COVID-19 pandemic is changing the American public's perception of everyday life, and these unprecedented changes may be the most drastic for our children and students. With school closures and stay at home orders, families all over the world are adjusting to a new era of anxious uncertainty. Having conversations that provide your child or student with vital information while easing their anxiety is no easy task. So let's go over a few common questions your child or student might ask, with some helpful tips for talking with children about coronavirus to help you remain honest and informative.
Kids' common questions to COVID-19
Here are some everyday questions your children may ask, with some advice on how to frame your answers.
Why do I have to wash my hands so much?
This isn't always easy to answer when the child is very young. Going into detail about how germs work might do you much good if you have little ones. Framing it as something fun is one way to placate them.
As we've seen on social media, the news, and other sources, singing "Happy Birthday" while washing your hands has actually become a real metric! Why not use it. For children who are a bit older and understand, it's completely fine to say germs get on our hands, and those germs can get us sick, so we always have to wash them off.
What is Coronavirus or COVID-19?
Again, explaining how a virus functions isn't always necessary for toddlers, but for some older children or students, this might very well be appropriate. You could start by explaining that viruses are a type of germ that cause disease and that we actually fight off viruses all the time.
In fact, Coronavirus is a common type of virus that causes colds, and other breathing infections, but this particular kind, COVID-19 is a brand new type, one we've never seen before. 
This is the reason why many people are getting sick, because our immune systems have never fought it off before. If someone gets it, they may experience a high fever, cough, and trouble breathing.
Who's going to get infected? What if you get infected? What if I do?
This question is being asked by everyone with a parent, child, or loved one. It's scary because it's real. Because it's possible that anyone can get the virus, it's critical to remain truthful, telling children you won't get it, isn't helpful because what if you do, or someone they know does?
Instead, encourage resilience and possibility, that if someone does get sick, we will fight it off and get healthy again. It is helpful to also let them know that elderly people, or those who have weakened immune systems are more at risk for the virus. This is also a good answer for if and when they ask why they can't see their grandparents.
Why do I have to stay home all the time? I'm not sick?
This is a good time to bring up the word "asymptomatic," that it's possible those experiencing no symptoms could still have it, and therefore, spread it to those we love. 
If your child is much younger, and that sentence will mean little to them, it's a simple 'we have to stay home until our leaders tell us it's safe.' Reminding them that when we go outside, we can unknowingly contract the virus and potentially spread it to others, that staying home, taking care of our bodies' hygiene and remaining socially distant are the most effective ways we can protect ourselves and everyone else.
How long is this going to go on? When can I go back to school?
It's okay to tell your kids you have no idea. We don't know how long this pandemic will last. But framing it as the more seriously we take this, the quicker we can get back to normal, is truthful and beneficial.
Tips for Talking with Children About Coronavirus
Stay calm and support their feelings
Your children will pay more attention to how you act than what you say. It's okay to say the "wrong" thing. You are all in a brand new situation. No one is an expert on how to parent in a pandemic. Being willing to explore your feelings will allow you to better support theirs.  
Developmental psychologist, Dr. Barbara Stroud reminds us that fear is not helpful in development. Watch below as she shares her tips for parents and professional insights on not only how to speak with children, but how to act to foster a safe and loving environment during these uncertain times. 
Tips for Talking with Children About Coronavirus
It might seem tempting to hide the horror of these recent truths for your little ones, but a sense of stability and trust in something or someone, (i.e. you) is critical for them now more than ever. And this sense of safety can only exist through honest conversation.
In Bell Hooks' book, All About Love, she writes, "To be loving, we affirm the value of truth telling. Lies may make people feel better, but they do not help them know all." To create an honest, loving environment in a difficult time, parents and child care-takers are encouraged to start an open dialogue with their kids or students.
If your child or student asks you a question about the pandemic, instead of immediately trying to answer them, consider bringing them along the research ride! With them by your side, look up credible information on the CDC website or your states department of health site. Show them how we can responsibly research and get credible info. While the pandemic is extremely unideal, it can yield valuable lessons about the media, health safety, and how to help others.
By admitting that you may not have all the answers, you can reassure them that together, you can seek answers and information together. Additionally, if you have the socioeconomic means to help others in this financially stressful time, research ways you and your family can assist those in need. This can include delivering groceries to those who are elderly or immunocompromised, or donating money to food banks or maybe your child's classmate. Your kids learn, by example, that times of national distress can be an opportunity to help others.
This is the best way to take care of your kids.  Be calm by example, but also take the time to express vulnerability and fear. Sharing your anxieties may help them feel less alone. Relieve yourself of the burden of having to answer all of their difficult questions, especially questions that don't have answers yet. Instead, let them know that you are doing your best in staying updated and keeping them safe. This is difficult for them, but also for parents everywhere.
It is important to acknowledge that many parents may not have the privilege of working from home or helping their child with their new online classes. For those parents especially, being honest with your children about what you need from them can be a way to help you and them. This can include asking them for help to keep the house clean or teaching them how to cook simple meals. Take care of yourself by reaching out to other parents who are going through similar situations. Parents everywhere are finding creative ways to make life fun and functional for their kids, even creating elaborate treasure hunts in their own homes.
Talking with children about coronavirus is probably not something you ever thought you'd have to do. The anxiety is spreading faster than the disease, far reaching now on a global scale. But there is a bright side – you're not alone. So ask for some help and breathe. You got this.
For the most up-to-date medical and health information, please visit the Center for Disease Control.