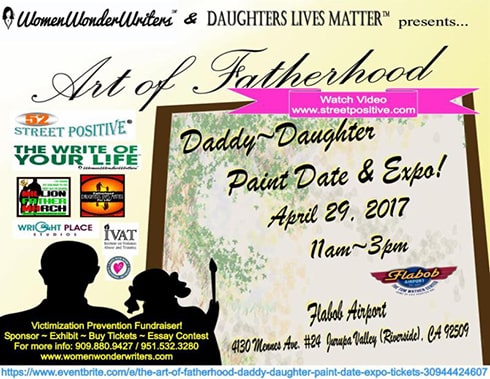 26 Apr

Scholarships for Girls to Paint Available for Local Victimization Prevention Event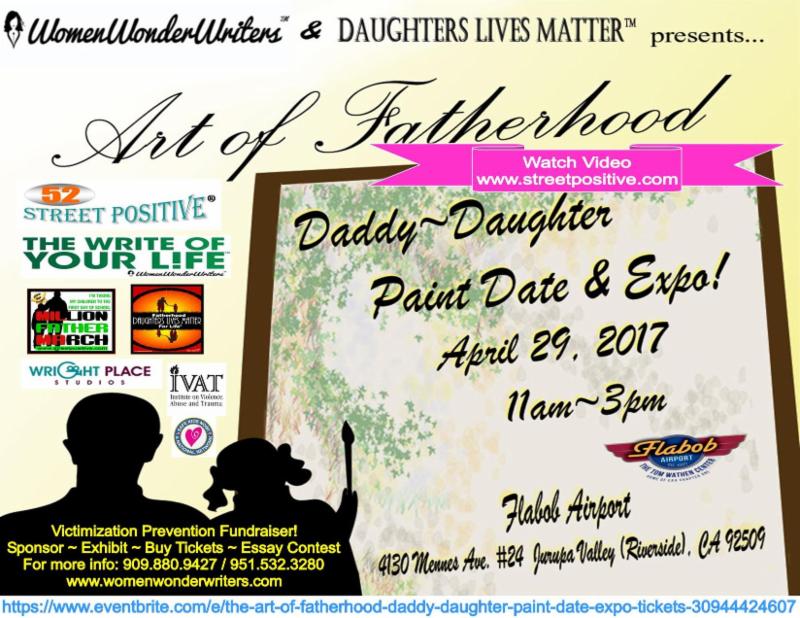 RIVERSIDE – Women Wonder Writers in partnership with Daughters Lives Matter and Street Positive is set to host the Art of Fatherhood event at Flabob Airport, Hangar 16A in Riverside on Saturday, April 29, 2017.  Scholarships valued at $40 are available for girls ages 7-18 who register in advance, which includes admission to the expo, lunch, painting supplies and instruction, and her own masterpiece of Swing Tree to take home.
This event will provide the opportunity for guests to paint to prevent victimization and abuse, connect with important resources, and meet local career women in non-traditional and cultural careers, during National Child Abuse Prevention Month. Numerous diverse exhibitors and special resource vendors will be on site to meet with attendees. The Write of Your L!fe Essay Contest Winners will be announced and there will be giveaways, prizes and food served at additional cost.
To kick off the event, T-Lopez, a relevant music artist and producer, who performed at Saturday's Riverside Tamale Festival, will sing the National Anthem followed by a tribute song to healthy father-daughter relationships.  Dixie Roybal, founder of Perfect Palette, a mobile paint company geared towards all levels of skill, will guide guests to paint their own masterpiece to take home of Swing Tree. Top female drifter, Rathyna Gomer, who currently competes in drifting in the ProAm series and working towards earning her professional competition license for Formula Drift Pro2, will be in attendance alongside her race car for a meet-and-greet with attendees.
"Many of us have been personally touched reading about the work of this organization to help steer young girls to a support network like yours.  There are many days I realize how much turmoil and pain I could have avoided if I had access to programs that would have connected me to positive role models," said Desiree Wood, Founder and President of Real Women in Trucking.
April marks National Child Abuse Prevention Month.  According to Women Wonder Writers Co-Founding Executive Director Debra Postil who is also a local county prosecutor, "our focus is to bring awareness to child abuse and victimization, especially when it comes to absent-father homes. Issues of promiscuity, suicide, dropping out of school, poverty, drug and alcohol use, as well as teen pregnancy increase when fathers are absent from a daughter's life.  And children from fatherless homes are the most vulnerable to being trafficked."
Girls ages 7-8 interested in obtaining a scholarship to attend the event are required to register by contacting Kathy Ediss at (951) 532-3280 or Kathy@WomenWonderWriters.com no later than Friday, April 28, 2017. The Expo is set for Saturday April 29, 2017 and is open and FREE to the public (lunch and painting at additional cost).  The Expo opens at 11:00 a.m. and runs until 3:00 p.m.  Painting instruction starts at 11:30 a.m. Guests can register at WomenWonderWriters.com.
Tickets for the general public to participate in the painting portion are $40 for Adult (includes one child age 7-18) and $10 for each additional child.  All proceeds benefit The Write of Your L!fe, a mentoring cultural arts program building resiliency in girls. Lunch is not included in admission. Parking is free and the event is open to the public, including the media.  For more information, please email info@WomenWonderWriters.com, contact Kathy Ediss at (951) 532-3280, or visit www.womenwonderwriters.com.
Women Wonder Writers is a 501(c)(3) nonprofit organization with a mission to break the cycle of victimization and abuse through education, empathy and expression.  It implements cultural arts and restorative justice programs, including The Write of Your L!fe, for girls ages 14-18.  For more information, visit WomenWonderWriters.com.