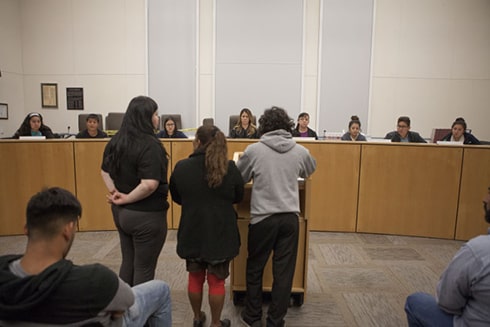 06 Jun

News Release: Women Wonder Writers Awarded California Arts Council "JUMP StArts"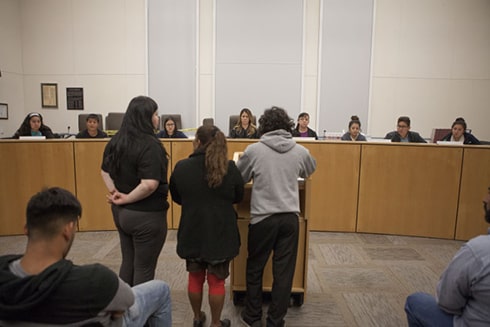 Jurupa Unified Student Court program in session with student jurors hearing case,
WWW Executive Director Debra Máres, and respondent, his mother and translator.
News Release
Women Wonder Writers Awarded 
California Arts Council "JUMP StArts" Grant
State funds support arts education projects for youth 
involved in the juvenile justice system  
RIVERSIDE, CA – Today the California Arts Council announced a grant award of $27,664 to Women Wonder Writers (WWW) as part of its JUMP StArts program.  JUMP StArts supports high-quality arts education and artists-in-residence programs for youth engaged in the juvenile justice system. These may be students who have been arrested, are on probation, or are incarcerated at a juvenile justice facility. Projects must be designed and developed in partnership between an arts organization and a juvenile justice facility or social service organization. The program mobilizes partnerships between arts organizations and juvenile justice entities to create arts-learning opportunities that foster positive socio-emotional, behavioral, academic, and developmental outcomes for system-engaged youth.
With support from the California Arts Council, Women Wonder Writers will support the Jurupa Unified School District (JUSD) Student Court with its proven literary and cultural arts programs. Together they are committed to ensure that art is accessible to young and vulnerable Inland Empire students, specifically those who are at risk of being engaged in the juvenile justice system.
WWW's Executive Director Debra Máres stated, "By the time youth come to the attention of law enforcement or the justice system, they've faced an average of six traumatic experiences. This funding from the California Arts Council will help our team support Jurupa Valley Unified Student Court with The Write of Your L!fe, which gives some of our most vulnerable students a creative outlet and helps address the school-to-prison pipeline, the cascade of effects that occur when children are pushed out of school and into the juvenile justice system."
Women Wonder Writers is one of 51 grantees chosen for the JUMP StArts program. The award was featured as part of a larger announcement from the California Arts Council, with grant funds totaling a projected $24,508,541 for 2018-19, the highest investment in statewide arts programming since the 2000-01 fiscal year.
"Arts and culture are inextricably linked to our humanity," said Nashormeh Lindo, California Arts Council Chair. "They serve as a universal touchpoint for understanding and addressing our societal issues-dismantling inequity, healing trauma, reframing justice, inspiring truth and shaping futures. The Council is humbled to support the vital work of Women Wonder Writers and its passionate efforts to make a better California for us all."
To view a complete listing of all JUMP StArts grantees, visit http://arts.ca.gov/programs/program_files/1819/CurrentGrantees/FY18-19_Project_Descriptions_JUMP.pdf.
Women Wonder Writers (WWW) is a 501(c)(3) nonprofit organization which implements cultural arts and restorative justice mentoring programs for youth. WWW is dedicated to supporting juvenile justice and education systems with creative alternatives to suspension, expulsion and incarceration.  By giving youth a new perspective and the proper tools and framework to succeed, WWW believes that no matter one's past, resilience is possible. Visit WomenWonderWriters.com for more information.
The mission of the California Arts Council, a state agency, is to advance California through the arts and creativity. The Council is committed to building public will and resources for the arts; fostering accessible arts initiatives that reflect contributions from all of California's diverse populations; serving as a thought leader and champion for the arts; and providing effective and relevant programs and services.
Members of the California Arts Council include: Chair Nashormeh Lindo, Vice Chair Larry Baza, Juan Devis, Jodie Evans, Kathleen Gallegos, Jaime Galli, Donn K. Harris, and Louise McGuinness. Learn more at www.arts.ca.gov.