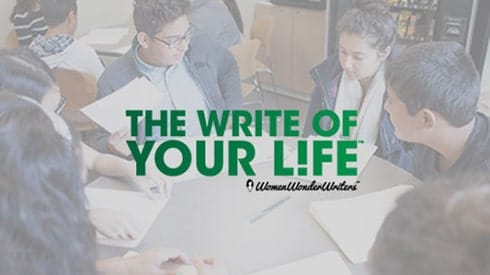 19 Apr

Women-led Org. Encourage Men to Speak Out Against Sexual Assault

RIVERSIDE – During Riverside Arts Walk, HALT THE ASSAULT took place on the lawn of the Riverside Public Library on April 5th, marking the first Thursday of Sexual Assault Awareness Month.  HALT THE ASSAULT featured male poets addressing sexual assault against girls and women, an event hosted by Women Wonder Writers, a local youth mentoring nonprofit, in partnership with Daughters Lives Matter, Inlandia Institute and Mosaic Art & Literary Journal.  Over 75 people were in attendance, including Ward 6 Councilman Jim Perry, leaving standing room only.  MC Nikia Chaney, Inlandia Institute's Poet Laureate, polled the audience as to how many were survivors or knew someone who had been sexually assaulted.  With nearly all hands raised, it sent a chilling reminder how prevalent the issue is.

Male spoken word poets included Eric DeVaughnn, who goes by T.R.U.E, a local poet who moved the audience with his seven minute spoken word testimony how becoming a new father changing his perspective.  T.R.U.E expressed his biggest fear for his daughter, which stemmed from his own male species and the danger of men sexually assaulting girls.  Another male performer, Joey Romero, who is a local community supporter and past board president of Riverside Area Rape Crisis Center, husband and father of a daughter, en couraged the audience to "teach boys about consent.  We must teach them consent."  Dr. Ahmses Maat, a martial arts Hall of Fame inductee and fifth degree black belt, demonstrated self-defense techniques during two brief intervals through the event.

"Giving men a social space to address this issue is crucial to combatting sexual assault against our girls and women.  Men are protectors by nature and can speak candidly to other men about about consent, chivalry, and sexual assault. Many fathers are absent from the home for a variety of reasons, and cannot model or communicate gender equity and healthy relationships for their sons.  That's where our schools, community and media come in.  We all have a responsibility.  We recognize the male perspective as part of the solution and don't want them to feel left in the shadow. Their voices matter," stated Debra Mares, WWW Executive Director who kicked off the event.

Stephanie Shatkin of Mosaic Art & Literary Journal announced contest winners of The Write of Your L!fe Poetry Contest, which concluded the event. A three judge panel evaluated the poems based on a scoring rubric that included four categories: Passion, Positive Message, Presentation, and Relevance Addressing the Prompt.  The contest was open to entrants living or attending school in the Inland Empire and who were between the ages of 14-22. First Place award of $200 in the 18-22 yrs. old category was awarded to 19-year-old Chantel Hung for her poem Surviving Sexual Assault. Chantel, a first year student at UC Riverside planning to major in Public Policy and attend medical school to become a physician, enjoys spending time with friends, and family, as well as meeting and getting to know different types of people. She says "I am passionate about Halt the Assault, because it is an active movement to spur change, and empower others, including myself."

Second Place award of $100 in the 18-22 yrs. old category was awarded to 19-year-old Alondra Gonzalez for her poem The Evil Curse. Alondra who graduated from Centennial High School and is currently attending University of California at  Riverside identifies as a Latina student & mentor pursuing to make the world a little more habitable for all of humanity one verse at a time. First Place winner of $200 for the 14-17 yrs. old category was awarded to Marina Garcia for her poem You can't have me and Second Place in the 14-17 yrs. old category for $100 was awarded  to Madison Allred for her poem The Toughest Thing.  Madison is on the varsity tennis team at Etiwanda High School and the oldest out of five siblings. She says, "I enjoy listening to music, reading, and am working towards my next karate belt. I also love to learn languages. Ever since last school year, I have been writing poetry in order to get out my thoughts and feelings, especially after my own experience with being sexually assaulted. It is now one of my very favorite things to do."

Halt the Assault Anthologies featuring youth poetry contest submissions were released at the event and can still be purchased online at Amazon.  All proceeds benefit Women Wonder Writers.

Events bringing awareness to sexual assault continue around the county through April's Sexual Assault Awareness Month including at Riverside International Film Festival,which kicks off today with California's Forgotten Children, a documentary film shining light and combatting child sex trafficking, premiering this evening at 6pm at Fox Performing Art Center located at 3801 Mission Inn Avenue, Riverside, CA 92501.  The premier, which is sponsored by the Junior League of Riverside and The Grove Community Church is open to the public free of cost.  It will be followed by a panel discussion featuring local experts including Niki Barnes of Junior League of Riverside, Pastor Daniel Bishop of Grove Community church, Terry Boykins of Women Wonder Writers and Daughters Lives Matter, Nola Brantley of Nola Brantley Speaks!, Allison Donahoe-Beggs of Department of Public Social Services, Genice Jacobs of Abolitionist Mom, Krista Langford of Inspire Life Skills, Debbie Martis of Rebirth Homes, Opal Singleton of Million Kids, Norma Vazquez of Operation SafeHouse and film creator and director Melody C. Miller.  The discussion will be moderated by Women Wonder Writers' Executive Director Debra Mares.

For more information about WWW, please visit Women Wonder Writers website at www.WomenWonderWriters.com.

L-R: Rathyna Gomer, Daniela Aponte, Monica Martin, Maria Torres, Debra Mares. Back row L-R: Terry Boykins, T.R.U.E aka Eric DeVaughnn, Daughters Lives Matter representative, Dr. Ahmses Maat, Stephanie Shatkin, Members of Mosaic, far right: Cati Porter, Inlandia Institute Executive Director

Poetry Contest Winners L-R: Alondra Gonzalez, Chantel Hung, and Madison Allread.