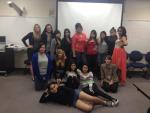 07 Feb

I can. I will. I did.

Nothing surprises WWW when it comes to amazing instructors. Kacey & Rosa are no exception. WWW Program Director Kacey Sutton & Instructor Rosa Castellanos tirelessly inspire & empower young women, steering them back on track – fearlessly. They serve justice, reduce crime & make the community a happier & safer place to be. Tonight's graduation is just one example.
"I can.  I will.  I did," was written on donated canisters, sitting next to framed photos taken during 
The Write of Your Life 
workshops.  One canister sat at each student's place setting in preparation for the graduation dinner, which featured a fun video recap of the 10 week program.  Mexican food and hot pink cupcakes helped liven the festivities.  Afterall, why not?  It was time to honor these amazing young women for their successful completion of 
The Write of Your Life.  
WWW is all of OUR home, so don't forget to KEEP COMING BACK so we can keep using  our experiences to empower another.  Thank you K & R for bringing your empowerment to WWW & making a positive difference in lives of these young women.
Xo,
WWW
http://www.WomenWonderWriters.com
P.S. See you at our WWW Youth Art Exhibit 2/14 11-3pm (RCAA Lemon/University) AND SAVE THE DATE for our monthly social, March 5, 5-7pm, Youth Opportunity Center, 2060 University Avenue, Riverside. 
KEEP COMING BACK…IT WORKS!