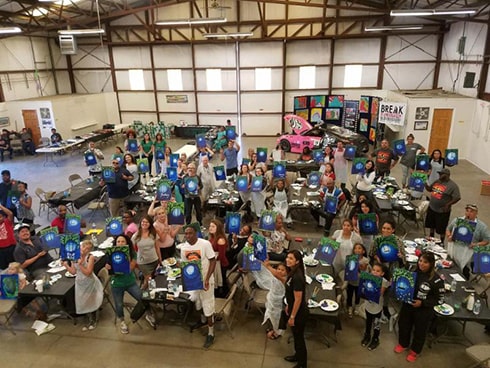 21 May

Fathers & Daughters Attend Paint Date Addressing Victimization & Abuse

News Release

FATHERS AND DAUGHTERS ATTEND RECORD PAINT DATE

ADDRESSING VICTIMIZATION AND ABUSE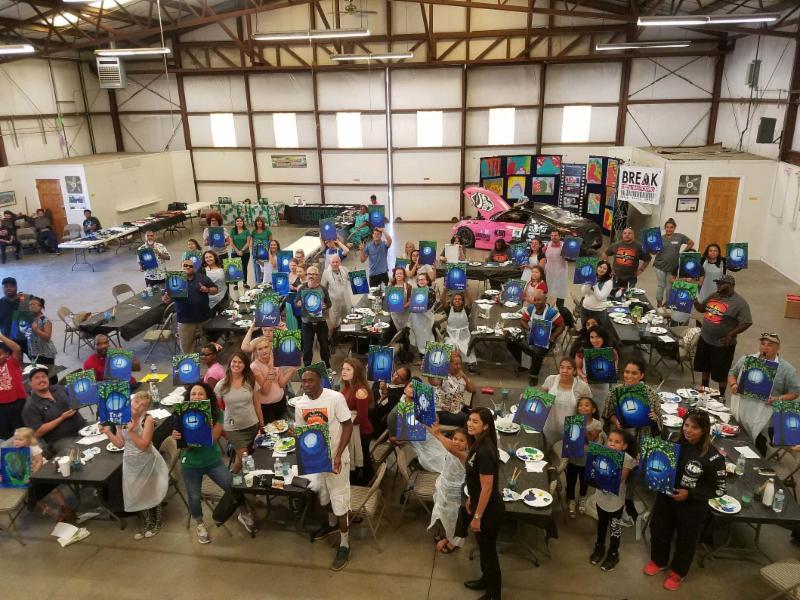 RIVERSIDE – Over 100 people attended Art of Fatherhood: Daddy/Daughter Paint Date & Expo held at Flabob Airport in Jurupa Valley, CA, on Saturday April 29, 2017, one of the largest of its kind in the region. The fundraising event was a collaboration among Women Wonder Writers, Daughters Lives Matter, a national collaboration for "healthy" father/daughter relationships, and Street Positive, a nationally recognized award-winning social impact organization focused on the emotional, physical, and economic well-being of youth and young adults to bring awareness to victimization and abuse, and the importance of fathers in their daughters' lives.
Art of Fatherhood focused on the significant role fathers play in affirming daughters. With up to 300,000 Americans under 18 lured into the commercial sex trade every year, these bonding activities are critical to the self-esteem, personal safety, peer selection, and relationship choices of daughters from childhood to adulthood. "When a daughter reaches for her father's hand, words cannot express the confidence she feels when she knows 'daddy's got me' and everything is going to be alright," said Terry Boykins, Executive Director of Street Positive.
Musical artist and producer T. Lopez opened the event by singing the National Anthem followed by a preview of her new tribute song addressing healthy father-daughter relationships, which will come out on Father's Day. Supported by her father and daughter, Lopez said, "I am one of four [daughters] and I know how important the relationship with a father is."
Debra Postil, executive director and cofounder of Women Wonder Writers, announced the winners of the Daddy-Daughter Essay Contest. All girls who live in the Inland Empire and their dads were invited to write a 500-word essay with prompts such as how their relationship has shaped their life and what values are important to their relationship. Julio E. Sanchez, father of a 15-year-old daughter, was awarded first place in the parent category. Sanchez wrote, "A man or father does not need to be loved for what he is but for the way he acts with those around him. Each and every one of us deserve our respect and place." Prizes were awarded for first, second, and third place.
The event also featured women who discussed their unusual career choices. Postil said, "There's a need for influential women as role models to send a powerful message." Raythna Gomez, a graphic designer at Women Wonder Writers and a drift car racer, showcased her race car and answered questions on her career choice as well as offered photo opportunities for the girls with her car. Other professionals included firefighter and paramedic Lovie Jung. "It's pretty awesome to have an event with women in these careers," Jung said. "I chose firefighting because no two days are the same and every day brings new challenges." An air force jet pilot, a nurse, women in trucking, and Assemblywoman Sabrina Cervantes, representing California's 60th Assembly District, also attended the event.
Fathers and daughters sat side-by-side as Dixie Roybal, local artist and owner of The Perfect Palette, instructed them in creating their painted masterpieces called "Swing Tree." Roybal said, "Growing up, my dad wasn't super involved and it's nice seeing events out there like this." During the "seventh-inning stretch," Mike Sherbakov, from The Greatness Foundation in San Diego, led the group in relaxing, stretching, and breathing exercises, including the familiar "airplane" yoga pose, which was modified to use the support of a partner.  Sherbakov who analogized  the modified pose to life's circumstances becoming easier when done with the help of supportive people, drew laughter from the crowd given the setting in Hangar 24.
All proceeds from the fundraiser will benefit Women Wonder Writers youth mentoring and intervention programs such as The Write of Your L!fe,™ implemented for girls ages 14-17. Women Wonder Writers (WWW) is a 501(c)(3) nonprofit organization with a mission to break the cycle of abuse and victimization through education, empathy, and expression. WWW implements cultural arts and restorative justice programs and believes that no matter one's past or hardships, resilience is possible. For more information, to bring a program or paint date to your region or site, visit WomenWonderWriters.com or contact Kathy Ediss at (951) 532-3280.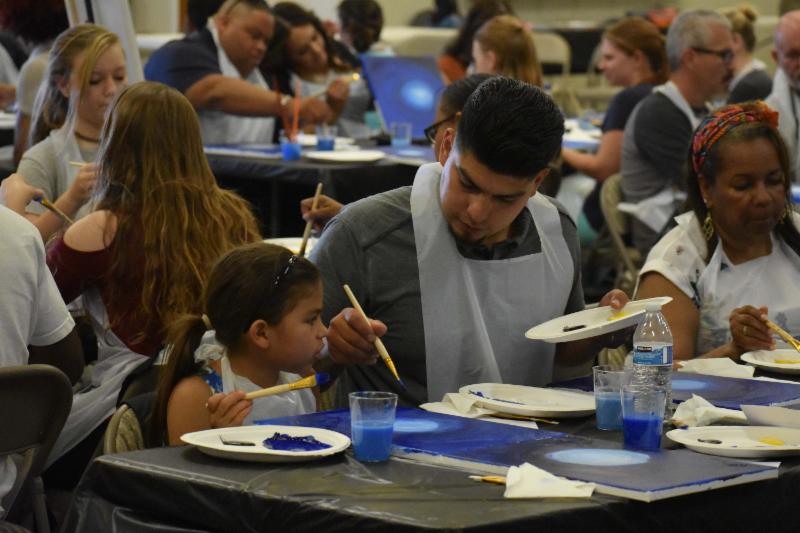 Art of Fatherhood daughter and father attendees painting "Swing Tree."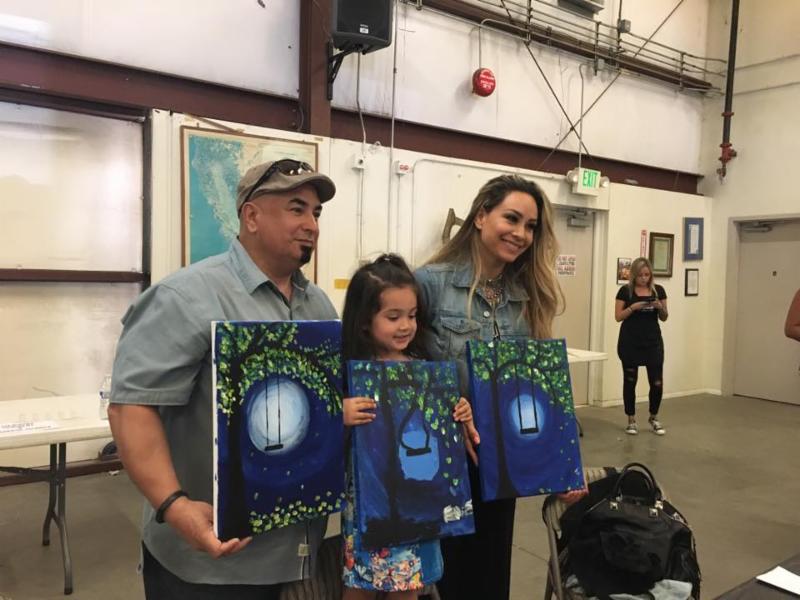 Singer, Songwriter, Producer T. Lopez (R) with her father and daughter.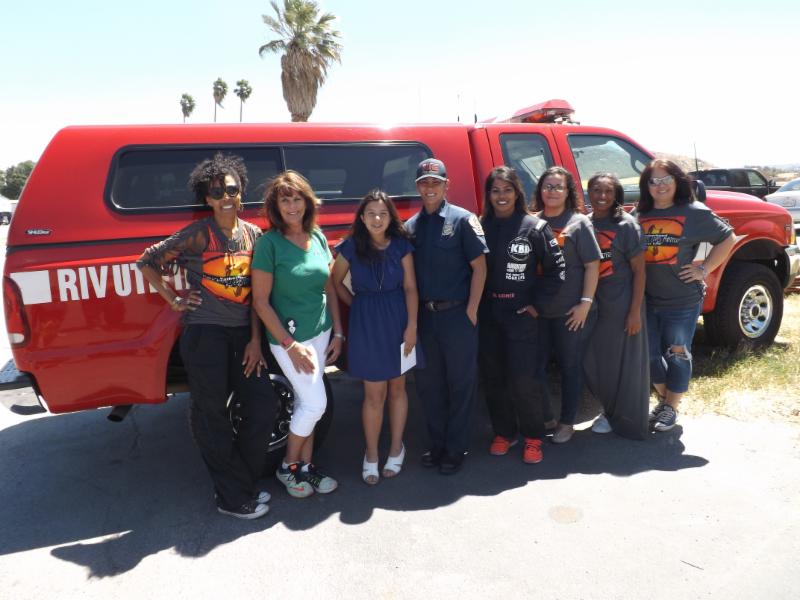 (L-R) Tamara Williams (Daughters Lives Matter), Kathy Ediss (WWW), Essay Contest Winner Natalie Rosado, Lovie Jung (Riverside Fire Dept.), Rathyna Gomer (Pro-Am Series Drifter), Jessica Garcia-Watkins (Daughters Lives Matter, Cheyenne English (Women Who Hide/Daughters Lives Matter), Monica Martin (Daughters Lives Matter).
Rathyna Gomer, Pro-Am Drifter, with Father & Daughter Attendees.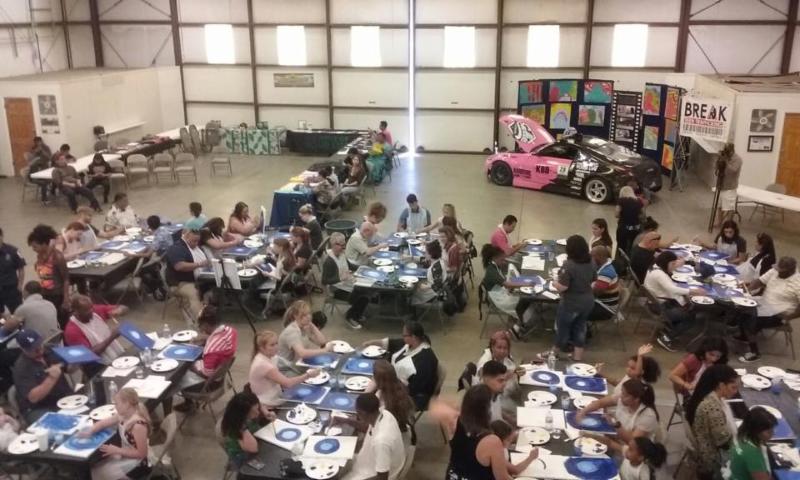 Attendees of Art of Fatherhood in Hangar 24 Flabob Airport.